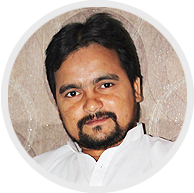 ABOUT THE DIRECTOR
The Managing Director and owner of Kalabhumi Arts, an Institute of Fine Arts, is Mr. Asgar Ali (he is master, completed his studying Master in Fine Art). He is a much acclaimed artist and was felicitated at the International Trade Fair by none other than the Presidents of India, Shri Pranab Kumar Mukherjee & Shri Jyotiradiya Madhavrao Scindia, Union Minister of State for Commerce & Industry. His work has been appreciated hugely by the former Chief minister of Delhi Mrs. Sheila Dixit (2009),Lt. Governor of Delhi Shri Najeeb Jung (2014), Dr. Harsh Vardhan Minister of Science (2015) and the Chief Minister of Delhi Mr. Arvind Kejriwal (2015). He has had the honour of winning laurels from renowned personalities for the talent and hard work. Artists who have acclaimed his work included Shri S.H.RAZA, Shri Satish Gujral, Smt. Anjolie Ela Menon, Shri Jatin Das and Paresh maity.
He has been invited to national and international art fairs his art work has won recognition ever since he held solo and group exhibition at India, Dubai, Jharkhand, Singapore and many more……Many Newspaper (Times of India, Punjab Kesri, Nav Bharat Times and Hindustan Times) has published articles about his art woks while news Channels (Zee News, Star News and News Nation) has aired Interviews with him.
He grew up in a middle class family with just a talent for fine arts and support from his family. But by honing his skills to almost perfection, has been winning laurels that he had never imagined he would. He has won fame and appreciation in India and is now doing India proud by showcasing his painting "The Glass of Life" at the Dubai Art Festival.
He founded Kalabhumi Arts with a wish to guide talented young children in the right direction.
Being always socially aware, he realized that many talented students are not able to achieve success since they do not know how to proceed. Hence he holds regular painting competitions for young children and visits schools in Delhi counselling students about a career in different branches of fine arts. He also got an opportunity to visit Tihar Jail and hold workshops for the inmates there. Their work was displayed and hugely appreciated at the just concluded Trade Fair. At the Raahgiri Anniversary held in Dwarka, he arranged a painting demonstration and also invited people to in painted on the canvasses there to show their solidarity with the Chennai flood victims.
He is a painter par excellence, an able leader, a social activist, and above all a very gifted teacher who strives to encourage budding artists and push them in the right direction in their careers.
Always Remember!
Life is as short as a mile stone- second! Gain as much knowledge as one can in as short a time as possible. It is only knowledge that really matters.
Director message
It gives me immense pleasure to welcome you to Kalabhumi Arts. Kalabhumi Institute has been able to catapult the student dreams into success stories for the last eight years. In this competitive world, Kalabhumi Institute is an institution which has raised standards in the education arena to a different level in a short span of time.
In our endeavour, we draw upon reserves of goodwill among the diaspora of our alumni, reputation among recruiters and potential students, and commitment of our faculty and staff to the institute. We work to create an institute environment that is supportive and encouraging for both artists and students. We are deeply committed to ensuring that every day; each and every student receives the attention and care of our teachers who strive to impart the best art knowledge.
Kalabhumi Arts is focused on being the leader in the art field and building asolid art foundation. Thank you for taking the time to read our profile and learn about our Institute. All are welcome to be part of this esteemed Institute.
Asgar Ali
Director of Kalabhumi Arts